Supporting our environment
TIN is supporting SUFT by funding the planting of maintenance of native broadleaf trees in the Brecon Beacons: we plant a tree for everyone who attends the events.
Stump Up For Trees
Stump Up For Trees (SUFT) is a community-led charity planting a million trees in the Brecon Beacons area to provide multiple ecosystem services - including carbon capture, biodiversity creation, natural flood management and landscape connectivity - as well as benefits to human health and well-being.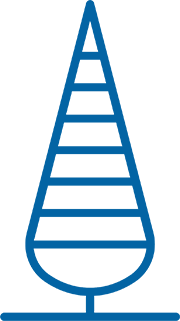 We have so far donated
£

0
of our Target of
£

20,000
before the end of 2024
The size of the TINwood so far:
The pilot plant of circa 130,000 native broadleaf trees at Bryn Arw was planted in 2019/20 on a 64 hectare section of common land that covers the summit and flanks of Bryn Arw, a low hill on the eastern edge of the Black Mountains, 4km North of Abergavenny, within the Brecon Beacons national park.
In a Herculean feat Keith Powell cut the Welsh words DAW ETO DDAIL AR FRYN and STUMP UP FOR TREES into the bracken to promote the project (clearing the bracken is the first and essential step in planting a forest where bracken currently grows).
The Welsh words mean 'there will be leaves on the mountain again'.
The sentence references an uplifting line of poetry made popular across Wales during lockdown – 'Daw eto haul ar fryn', which means 'There will be sunshine on the mountain again'.
If you would like to make a donation to the project you can do so here: